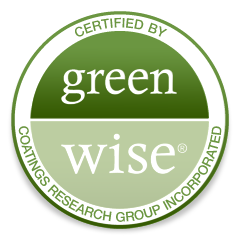 The Green Wise mark is your assurance that these products have been tested under strict laboratory conditions, and meet or exceed scientifically determined environmental standards.
Products bearing the Green Wise label have been tested and certified by Coatings Research Group, Incorporated to meet performance standards established by CRGI's ISO-accredited facility for specific product types, and to meet or exceed the VOC requirements of LEED® for most applications. Green Wise certified products do not contain certain chemicals which have been determined to be harmful to humans or our environment. To see a list of these chemicals please see our Performance Standards.
Coatings Research Group, Incorporated is an international organization of paint manufacturers founded in 1956. CRGI is staffed with degreed scientists and chemists, and is recognized the world over for its high quality technical work and scientific reporting.
With 37 paint manufacturer members from 12 countries, CRGI is the focal point in a network of the paint industry's finest technical directors, scientists, and chemists. CRGI is dedicated to the benefits of shared research and development in cutting edge paint technology.
CRGI designed the Green Wise paint standards and test methods with scientific input from member paint company technical directors. The result is the development of a truly green standard by which paints are accurately measured. All Green Wise testing is done independently by CRGI and member companies do not perform any testing.
Coatings Research Group, Incorporated is an active member of the United States Green Building Council.
If you would like your products certified by CRGI for Green Wise please contact us at: info@greenwisepaint.com or call us at 440-638-5945